Hi Everyone!
April has really been a month where I gotten back into my books (especially after shops opened once again, and I had a little trip into Waterstones) The list of books I read in April was more varied for me than my average reading month, and I really enjoyed that, I love discovering new genres and authors. and so without further ado, here are the books I read in April .
1. Six of Crows - Leigh Bardugo
Now with the Shadow and Bone Netflix adaptation being released in April I couldn't not read the Six of Crows. I will admit I am a fan of the original Grishaverse, but this books blew me away. The characters were so much more complex and intriguing. Now I'm not normally one for a heist style plot, but oh my god this book keeps you on the edge of your seat, praying that the Crows complete their heist. A true joy til the end to read ***** 5Stars
2. The Percy Jackson and the Olympians - Rick Riordan
Yes, so this is technically 5 books but since it's a series I though I'd bundle them together.This is a series I have had in my collection for probably over 10 years and yes I have already read it, but a little while ago I remembered that I never actually finished the full series including the Heroes of Olympus series. Therefore a re-read a required, I read through the 5 Percy Jackson stories and will be continuing with the Heroes of Olympus series next. This series is one that just fills me with nostalgia for growing up. A series I will always recommend ***** 5 Stars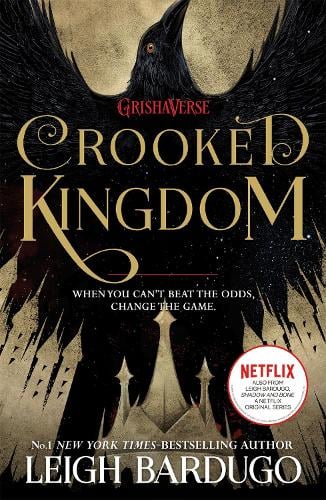 3.Crooked Kingdom - Leigh Bardugo
I had to finish this duo-logy! Like how could I not?! Kaz, Inej, Jesper, Wylan, Nina and Matthias, has barely survived their infiltration of the Ice Palace and made it out alive. To say this book has enough twists and turns would be an understatement. You genuinely feel like you are part of the Crows, second guessing what is gonna happen, whether Kaz has a plan or if Wylan can stay hidden. The ending is bittersweet, but it is exactly the way that felt right to the books and the characters. I think its easy for me to say that I enjoyed the Six of Crows duology more than the Grishaverse series. *****5 Stars.
That is all the books I read in April. I have a full pile of books for May, including some new release. Hopefully I get to finish them in time for another round up post.
Write again soon xx
Twitter / Bloglovin'